Agency Mail List
You may use the agency mailing list function to send e-mail to users who have signed up on your notification list, as well as to view and download user information associated with any board or regulations of your agency. Click on the "Agency Mailing List" link on the "Agency Functions" menu and you will see a screen like the one below.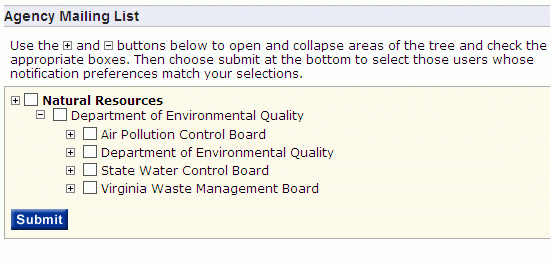 Use the selection box to select users. If you select a board you will get all users who signed up for that board specifically, any of it's chapters, or it's parent agency or secretary. In the screen captures above, if you selected the Air Pollution Control Board you would get all users who signed up for that board, it's chapters, the Dept. of Environmental Quality and the Secretary of Natural Resources. You would not get users who signed up specifically for the other three boards under the Dept. of Environmental Quality or their chapters. The above example also shows one common situation where one of the agency's boards has the same name as the agency. On the Town Hall they are treated as separate entities. One is an agency containing 4 boards. The other is a board with responsibility for one part of the Virginia Administrative Code.
Once you have selected the appropriate secretariat, agency, board or chapter, click on Submit.
You will be presented with a table of user names and email addresses. You can choose to either Download Users or Email Users.
Downloading Users: After clicking this link the user information will be put in a comma delimited file with a CSV extension. This file will often open automatically into a spreadsheet program like Microsoft Excel. This will depend on what software is installed on your PC and how your PC is configured.
Email Users: After clicking this link you will get a screen like the following where you can compose an email to the group of users selected. You can attach a file if desired and click on the "Send Email" button. As shown on the screen, the message will be sent from you. Or you can change the address so that all the replies and return error messages don't come back and overwhelm your email account.