Uploading and Replacing Documents
Much of the information on the Town Hall is entered through web forms and is stored in fields in the Town Hall's core database. However, some items require more flexibility. When necessary the Town Hall has users upload Microsoft Word documents and/or Adobe PDF files.
When a document is required you will get a browse button as in the sample screen below.

Word documents uploaded to the Town Hall will get converted into Adobe PDF format. After clicking on the appropriate SAVE or SUBMIT button you will get a screen that looks like this.
Below you will see a sample of a stage's "Documents" tab. Notice that items in PDF format are listed with the associated PDF graphic. Items which are not PDF documents are shown with a plain round button. Also notice the agency statement. When a document is replaced/updated the orginal upload date is kept and a "modified" date is appended.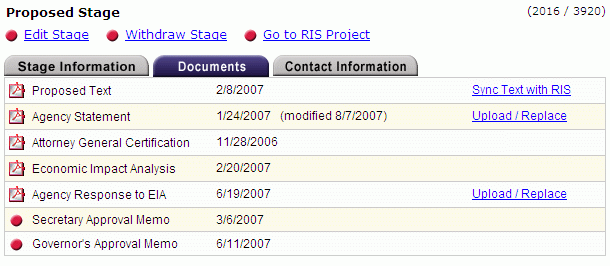 Although some documents, including Guidance Documents, can be uploaded in Microsoft Word or Adobe PDF format. Other documents, including Agency Statements, EIAs and Agency Response to EIAs, MUST be uploaded in Microsoft Word format even though they will be converted and displayed on the site in Adobe PDF format. The Registrar's office requires Microsoft Word format which they use to produce The Virginia Register.
All word documents uploaded must have a ".doc" or ".docx" extension. This is the default for Microsoft Word. You may use WordPerfect, but you must first rename the file to have the ".doc" extension before attempting to upload the file. It is recommended, however, that you upload a file saved in a Microsoft Word format. The Town Hall can handle any Word version that MS Word 2010 can open.